Above the Competition
The Debate President's journey of balancing debate and school.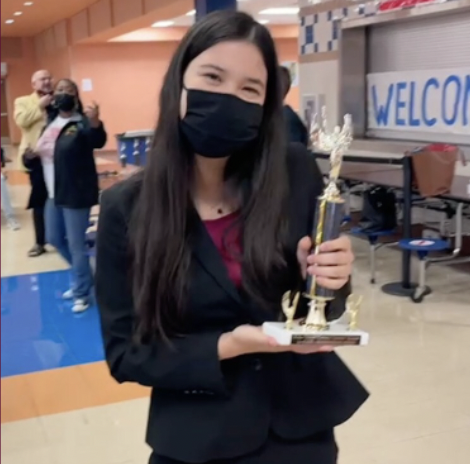 It was the UPenn Debate tournament in Philadelphia and Sophia Osborne was anxiously waiting for the results of the final session. Suddenly, the announcer called her name and told her that she won first place. Osborne was relieved and jumped up and down in excitement because it was her first time getting first place at a National tournament. 
Osborne started debate in sixth grade while attending Wellington Landings Middle School. There was a requirement to take an elective and debate seemed like a very good choice to her. What also encouraged her to go into debate was her father who did debate when he was in high school.
"I eventually decided to come to Suncoast because I met the math requirement for the MSE program and my middle school teachers recommended that I go to Suncoast," Osborne stated.
Osborne is now a senior and is the president of the Debate team. She is currently in the MSE/IB program at Suncoast. She is known for her strong work ethic and dedication to the team. While maintaining the challenges and classes, Osborne had to also work with novice students and compete in debate. 
For the four out of her six years of debate, she participated in Congressional Debate.
"While competing in Congress, I found out that Congress was my favorite type of debate style, and, so I decided to compete in Congressional Debate because it is very similar to how real Congress works with legislation related to current events topics," Osborne claimed.
    This style of debate was very interesting to Osborne because it helped her stay in touch with global and domestic policies. Osborne ultimately decided to compete more in Congress over Public Forum because with PF, it required more than one person to compete as a team, which was ultimately difficult for her. After all, she had to find a partner that would be consistent and compatible. 
Over the years, Osborne has heard some of the stereotypes about debate and has the following advice to anyone who wants to join or be part of debate:  
 "A lot of people have preconceived notions about what Speech and Debate is like, but in reality, there are over 10 events that are all very unique. There is a niche or style for each one and I think everyone can benefit from Debate! So my advice would be not to give up and to try out and participate in as many events as possible to find the style or type that you like and you will be glad how rewarding it is in the long run." 
Osborne also has some advice on when people should join debate:
 "It's never too late to join Debate! We have had seniors joining and succeeding before," Osborne stated.
Because debate was very consistent in her life, it shaped the way she thinks and improved her public speaking skills and ability to quickly write essays. Debate has also helped her in subtle ways such as helping her articulate her thoughts, understand complex situations and issues, and helped her draw conclusions in different aspects of her life. Debate has also helped her with the college application process. Osborne has already gotten into schools such as FSU Honors, UF Honors, Northwestern Honors, and the University of Michigan. Her top choice currently is UMich, but she would also love to get into her other top choices such as Georgetown University and UPenn. While also doing debate, Osborne was in cheer for two years, she is the Vice President of Bethune Elementary Student Teachers, secretary of key club, a member of spike ball club, and does taekwondo. In her freetime, Osborne watches Netflix, goes to the beach and loves to read political theory novels. 
Osborne is overall very thankful that debate was a big part of her life at Suncoast and Wellington Landings. It has given her an opportunity to meet and interact with new people, gain confidence, and learn good writing and speaking skills that she can apply to other aspects of her life.