Wired
The preference between wired or wireless headphones.
Listening to music and other enjoyable audio is supposed to be a relaxing task. However, deciding whether to use wired or wireless is a heated argument. The pleasure of not having to detangle wires makes most people choose wireless earbuds. At the end of the day, wireless is the way to go.
"Wireless all day because wires are too complicated. Wires are stressful especially when I'm trying to get them out real[ly] fast, plus wireless is better when I'm playing basketball," freshman Phileah Bright said.
Nobody wants to struggle before doing the everyday task of listening to music. Wireless earbuds leave listeners with less stress and less mess. The earbuds automatically connect to the device via Bluetooth with the use of radio transmission technology to transfer audio from the phone to one's ears. Without having wires in the way, consumers are able to move freely and do activities such as exercising without holding their phone.
Additionally, wireless earbuds allow people to walk distances away from their phones while still listening to music, in comparison to being restricted to devices. Having more portable devices makes life easier, making wireless better than having wired headphones.
"I like my Airpods better than wired [earbuds] because they aren't messy and are easy to use. I can just pop them in my ear without having to struggle with undoing wires," junior Tiana Anderson expressed.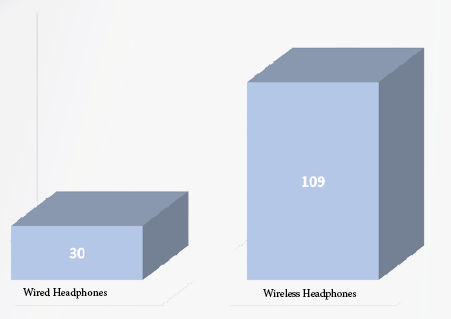 According to Head Honesty, Studies show that by 2027, the revenue forecast for the wireless headphone market is 3.41 billion USD. The sale of wireless headphones has increased tremendously after technological advancements such as Airpods. This Apple product is popular especially amongst the youth due to their ability to switch between devices and easy charging. As technology continues to improve, I believe the world will become more wireless.