PSAT Nonsense
Is standardized testing worth the work?
December 6 is either a dreaded day for students or one filled with great academic fulfillment. This is the day that PSAT 8/9 and PSAT/NMSQT scores are released for students in Florida, like those at Suncoast. Every year, freshman and sophomores take their respective PSAT, but for all the hard work that goes into taking these tests, do their scores even matter? 
CollegeBoard, the organization in charge of creating the PSAT, states on its website that the PSAT 8/9 helps to, "build confidence, choose high school courses, [and] explore your future career." Similarly, CollegeBoard describes the PSAT/NMSQT as a test to, "…measure what you're learning in school, determine if you're on track, and open doors for opportunities to prepare and pay for college." 

Even though the PSAT/NMSQT can help to qualify you for scholarships, such as the National Merit Scholarship for which the test has been named for, students do not qualify for the program until their junior year. For the hundreds of Suncoast freshmen and sophomores who take the PSAT, much of the actual benefits of the test come later in their school journey. Everything else, such as the ability to explore future careers, seem to be provided as an advertising stunt with the ability to gain more revenue by collecting student information. 
"They asked me a lot of questions about my family background and how much income my family makes," recalls Rayna Cook. "I'm just trying to figure out why that is relevant."
While CollegeBoard states that they do not "sell" information from test takers, they still make a profit off of data. "…Qualified colleges, universities, nonprofit scholarship services, and nonprofit educational organizations do pay a license fee to use this information to recruit students and provide opportunities in connection with educational or scholarship programs," according to CollegeBoard's Privacy Center. 
Emilio Gomez, a teacher within CollegeBoard's Advanced Placement program believes, "that whenever the opportunity exists for financial gain, there is the temptation for corruption."
However, he believes there is no direct effect toward teachers and students. "It's not the right approach, but in the wrong approach…there is the dual benefit of educating students and making a profit." 
With students not knowing much of the underlying meanings of the PSAT, many take the test seriously.  Sophomore, Claire Dinh, had a testing schedule to help her prepare for the PSAT. For two months before the October 13 test date, she would complete one practice test every week. "I think that having a PSAT score can't be harmful since at worst, you can either choose not to disclose that score to colleges or others. At best, it could end up helping you become eligible for scholarships," Dinh noted.  
But for Charlotte Kimmerling, who is also a sophomore, PSAT scores come with some concerns. For a school as competitive as Suncoast, when PSAT scores came out, students began comparing scores with others. This competition of who gets a higher score forms doubt in some students who start to believe that they're not good enough. This comes, even though CollegeBoard says their test is simply "preliminary" and a practice. 
"I get upset because it's not perfect, even though I know that it's unrealistic to hope for perfection. …Suncoast always has the highest scores, so there's all this pressure to fulfill the expectations which makes me feel stressed when I don't," Kimmerling described. 
Sophomore Cole Safriet agrees that the, "…PSAT scores causes there to be a competitive nature at Suncoast….so when the PSAT is involved, which is an important test that prepares the students for actual SATs, those scores are a huge deal and enhances such a nature even further."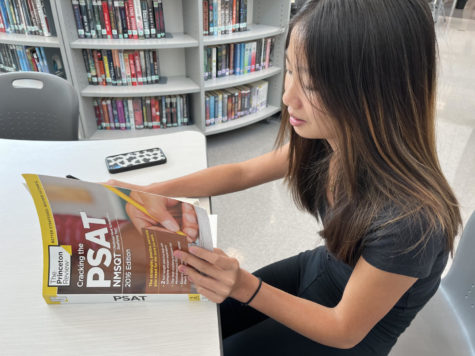 Besides students, PSAT scores are often advertised as being helpful benchmarks for schools to know what students need help on to prepare them for the SAT. A flyer published by CollegeBoard for educators encourages teachers to use "…data for instructional planning to improve college and career readiness." 
However, even as an AP Psychology teacher, Gomez bluntly stated he does not use PSAT scores for anything in his classroom. "No, because at the end of the day I'm getting input from my students…and that is more important than any information from a standardized test," he said.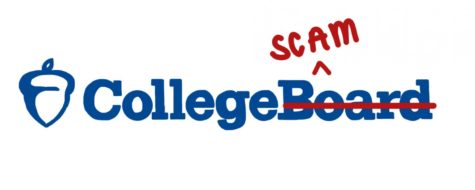 The same flyer also encourages schools to use the AP Potential tool in order to "Develop robust AP programs [and] Recruit new AP students." While CollegeBoard collects AP  exam fees that are paid for by students and school districts across the United States, schools are estimated to need to spend upwards of 11,000 dollars to start a new AP class, according to CollegeBoard themselves.
Gomez, who is also an AICE Literature teacher, believes that even with all of these complaints about CollegeBoard, his teaching does not change. 
"I don't care, CollegeBoard doesn't affect me. I'm not the type of person who thinks CollegeBoard needs to give me anything, I see what I need to do and I direct myself," he stated.
Other teachers, from multiple subjects and grade levels, were also asked for their position. However, requests for an interview were declined because of a lack of knowledge about the PSAT and CollegeBoard. 
Safriet has not seen any improvements on the standardized testing environment that has been engraved in student life at Suncoast. 
He says, however, "there are always the few teachers who promote kids to not share their scores if they don't feel comfortable which can help, but in the end, it is difficult to prevent such a thing due to the fact that they are the student's scores and so the student's get to decide what they want to do." 
Even with the concerns that both students and teachers have with PSATs, and ultimately standardized testing in general, most students at Suncoast will continue to take the PSAT. And maybe this can be a good thing. The PSAT does help prepare students for similar questions for when they take the SAT, which unequivocally does have some impact on college admissions. Dinh noted, "It's good practice for harder standardized tests students may have to take later on in high school."
But our question is still relevant, for the amount of work that goes into preparing for the PSAT, should students have to deal with anxiety and stress just for a score that many educators and students don't even use?
"No, it's definitely not for everyone. Standardized tests, in my opinion, measure how well of a test taker someone is, but aren't the best way of measuring intelligence," advised Dinh. 
However, Safriet believes that the answer is more complex. "While I do believe that it is somewhat of an accurate measure of how knowledgeable a student is in their math and reading classes…it also can reflect inaccurate scores if the student happens to be stressed while taking it, or possibly if the questions reflect content that the student isn't learning in their current classes," described Safriet. 
And Gomez agrees with his students that standardized testing scores are not beneficial to teachers.
"As a kid, I would have done great on a standardized test, but not be learning anything in the class," he recalled. 
While I, and most other students, cannot answer that question, the entire education system needs to look at the problems that come not just from the PSAT, but standardized testing in general. Because without accurate measures of student learning, how can we improve our education system?