r.e.m. beauty
Is Ariana Grande's makeup products worth buying?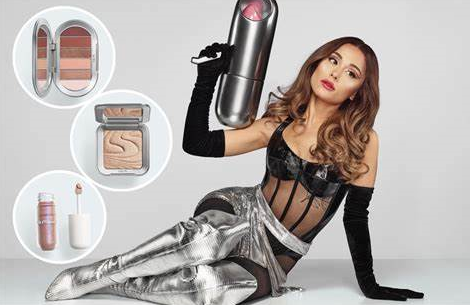 Ariana Grande's r.e.m. beauty makeup brand has officially launched and is now available to buy. Chapter One: Ultraviolet is the first launch, and it includes 12 products. Grande held a Zoom meeting with beauty editors to discuss the brand, new products, and what fans can anticipate from her first makeup line.
For the brand name, Grande chose her favorite song "REM" from her 2018 album Sweetener. "REM being the name of the brand, we wanted to focus on eyes. Eyes are our main storytellers and communicators," Grande says. "We wanted to mostly focus on that and do a little bit of lip to drop, but there's so much more to look forward to." There is a wide range of eye products,
including liquid eyeliners, eye shadow palettes, lashes, and two types of mascara.
Senior Karla Dearmas says, "I was so excited to get my hands on Ariana's new makeup collection. From the spacey, alien inspired packaging to the colors, my favorite product was her plumping lip gloss."
With a lightweight, non-sticky, hydrating formula, r.e.m. beauty's plumping glosses are glossy and packed with pigment and shimmer that costs $17. The nostalgic 90s' look along with shade names like Pink Razr, Away Message, and Jelly Sandals is definitely a fan favorite.
At first glance, you definitely get a futuristic vibe from the products, from the spacey silver packaging and the galactic inspired shade ranges. It is also heavily inspired by Grande's love for sci-fi, space, vintage, and horror. "I wanted to create our own world with this packaging," she
says. "Sort of futuristic, but nostalgic throwback. Anything that looks like it could have been on Star Trek or Barbarella or Star Wars or Black Mirror."
"I think it's really cool how she incorporates space in her makeup line. I recently ordered some products off her website and I was really impressed with how good the quality of the eyeliner and lipstick was," said Senior Hailey Birdsall.
Along with impressive packaging, the prices range from $15 – $24. Grande also prioritized making the line completely vegan and cruelty-free. "These formulas took a lot of back and forth, a lot of rounds of going to the lab and me overexpressing myself, as always," she says. "Working with these incredible artists, scientists, geniuses at the labs to get it where it needs to be. Vegan, smells delicious, lasts over a long time."
Overall, r.e.m. beauty is definitely worth buying. It is evident that a lot of hard work and passion went into creating this makeup brand.