Beef Stroganoff
The best of Russian cuisine.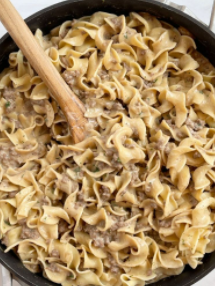 As we head into the heart of winter, there is nothing better than some rich, filling comfort food to help you keep away the cold. A dish stemming from Russian culture, Beef Stroganoff is an ideal choice. With a creamy sauce of beef, mushrooms and onions poured over warm buttery pasta, it will keep you nice and warm on cold days, and will likely find itself being prepared throughout the other seasons as well!
Here is what you will need (Feel free to change the amount of certain ingredients):
● 1 ½ pounds of sliced or diced beef.
● 2 ½ cups of sliced mushrooms.
● 2 sliced onions.
● ½ cups of sour cream. (Cream cheese can be used as a substitute if need be)
● ¼ cups of butter.
● 1 ½ cup of beef broth.
● 3 cups of egg noodles.
● 1 diced clove of garlic.
● ¼ cup of all-purpose flour.
● 1 teaspoon of Worcestershire sauce. (Optional)
Here is how we do it:
1. Melt the butter in a pan, then cook the onions, mushrooms and garlic in it. Cook the beef in the same pan. Add a bit of the broth while doing so. Cook until the beef is browned and the vegetables are tender.
2. Pour the Worcestershire sauce (if used), flour, sour cream, and the rest of the broth into the pan. Stir occasionally, and let it simmer while covered.
3. Either before you start or while the mixture is simmering, boil and prepare the noodles to your liking. Once they are finished, serve the noodles with the sauce.
4. Enjoy!
This dish can also be prepared in a crockpot, which is convenient for those who might be too busy to actively tend to the dish for too long, or if slow-cooking style is preferred. Regardless of the cooking method, beef stroganoff is sure to be a hit.