FutureDocs Abroad
Julian Paradelo's adventures in Tanzania.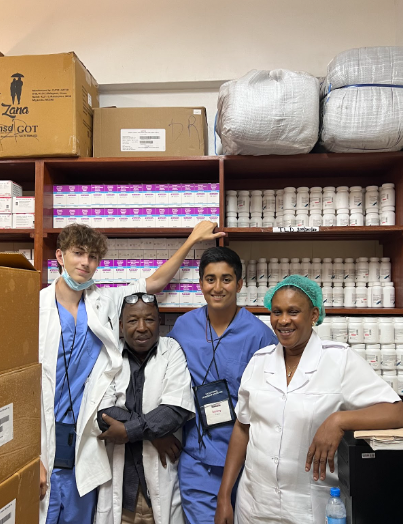 Beaming lights, lives on the line, and doctors taking action. Julian Paradelo, a junior at Suncoast High School witnessed it all in Tanzania for his FutureDocs Abroad internship.
As a kid, Paradelo never had much interest in medicine. Like every little kid, Paradelo had dreams. He dreamed of being an astronaut, but as that dream faded another one took its place. Slowly, the idea of working in the medical field grew on him. His grandfather was a doctor, and this inspired Paradelo to want to help people too. He joined a FutureDocs Abroad meeting where they discussed the future of the medical field. In the end, the students had a choice to pick between Vietnam, Poland, and Tanzania. Paradelo chose Tanzania where he discovered that the medical field was for him.
"We saw a cool Cyst removal, and I also saw a C-section. I had never seen a live birth before. We were right in the room. It was a bit nerve-wracking, but it was cool to see how easy-going the doctors were," Paradelo said in his interview with WPBF.
Paradelo explained how it was something new to experience, and like all new experiences he was nervous, but he bravely welcomed these challenges.
According to Paradelo, the doctors taught him, "How you have to keep it real with the patients, because there is not always a hundred percent chance of the patient surviving, and in the medical field you have to deal with breaking the news to the family, but the doctors also make sure they do what they can to help the patients."
Tanzania broadened Paradelo's perspective. He hopes to be a biomedical engineer someday because he wants to work with prosthetics. If there was anything he could change, Paradelo wishes to have interned at a different hospital because the hospital he helped in was a private hospital. He wanted to help in a government hospital
because in a government hospital it would have been more action-packed.
Paradelo loves to help people and he believes that being a biomedical engineer will help him feel accomplished. Paradelo's overall experience of the trip to Tanzania was astounding.
"I would recommend this to other kids because it's an eye opener and it's one thing to look at a book and another to be in there," Paradelo stated.
Paradelo would love to return to Tanzania and do it again. He has learned how to deal with patients, and his trip has given him a wider perspective of being in the medical field. Paradelo has set his focus on becoming a biomedical engineer and has no plans on changing his mind.