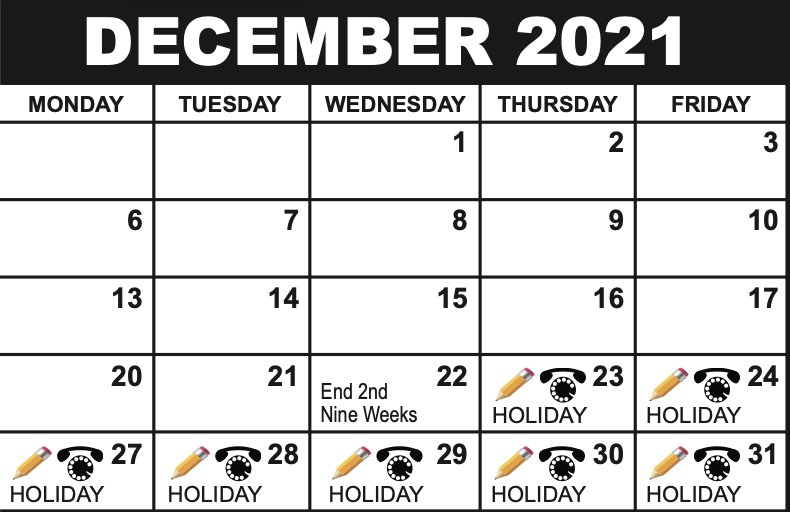 School District of Palm Beach County
Winter Break Is Here!
Between December 23, 2021 and January 5, 2022.
December 26, 2021
Palm Beach County Schools will begin winter break on December 23, after four days of semester exams. The break will last 13 days, spanning Christmas, Kwanzaa, and New Year's. Students return to the classroom on January 5, starting their third semester. Before then however, it is time to relax and enjoy winter break. Happy holidays!
Must-do Holiday Activities
With it being the holiday season, it is only right to participate in festive activities to get into the holiday spirit. Whether getting into the holiday spirit to you means watching holiday movies, decorating, or baking, here are some more activities to add to your list this year.
1. Make gingerbread houses
Get your kits at: Target, Michaels, or Walgreens
2. Make hot chocolate bombs
Click here for recipe
3. Get matching pajamas
Sold at: Walmart, Old Navy, Macy's, JCPenney, or Amazon
4. Take a tour of your local holiday lights
5. Make DIY ornaments
Ornament kits sold at: Kohl's, Target, or Amazon
6. Play dreidel
Click here to learn how to play
7. Organize a Secret Santa
Secret Santa generator app: Elfster
8. Attempt to make latkes
Click here for recipe
9. Have a holiday movie marathon
Click here for some movie suggestions
10. Decorate and customize stockings
About the Contributor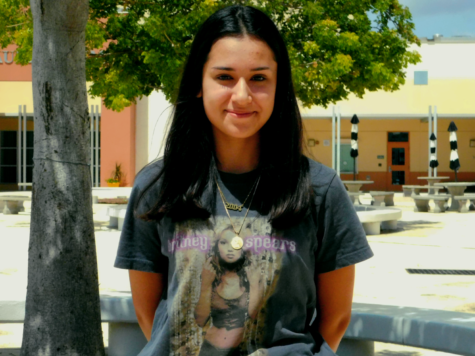 Isabella Jaramillo, Staff Writer
Isabella Jaramillo is an IIT senior at Suncoast High School. This is her first and last year as a staff writer for The Legend. She is eager to learn more about writing and designing newspaper articles throughout this school year.
Songs To Groove To This Christmas
All I Want for Christmas is You – Mariah Carey
Mariah is known to be the "Queen of Christmas" as her hit single "All I Want for Christmas is You" blows up every year. As soon as December first arrives people around the world begin to play this song as they get into the Christmas Spirit. This upbeat song expresses how Mariah does not care about the Christmas presents or the lights, all she wants for Christmas is to be with her lover. This track continues to break records everywhere.
8 Days of Christmas – Destiny's Child
R&B girl group Destiny's Child released their single "8 Days of Christmas", which is the same title of their Christmas album, in 2001. This is a Christmas song with elements of R&B and pop that gets listeners grooving as soon as the song begins. This song is based on "The Twelve Days of Christmas" but they used eight days to refer to Hanukkah.
Have Yourself A Merry Little Christmas – Luther Vandross 
The late R&B legend, Luther Vandross, pours his soul into his version of "Have Yourself A Merry Little Christmas" from his first christmas album, which was released in 1995. The original artist of this song was Judy Garland but the general public might know this song from Frank Sinatra. Vandross put a soulful twist into this cheerful holiday song as it creates a warm and cozy tone.
We Need a Little Christmas Album – Pentatonix 
American acapella group Pentatonix released their fourth Christmas album "We Need a Little Christmas" on November 13, 2020. This album features covers of traditional Christmas songs plus an original track "Thank You". They bring the holiday vibe by combining their vocal harmonies, riffing, and beatboxing creating their own instrumentals by just using their mouths.
Mistletoe – Justin Bieber
"Mistletoe" Is a Christmas song by Canadian singer,  Justin Bieber,  from his second studio album and first Christmas album. This song includes genres such as pop and R&B. This song is another commonly known song that gets played constantly around the holiday season.
Christmas & Chill EP – Ariana Grande
"Christmas & Chill" is the Christmas record that Ariana Grande has released. This EP features six original R&B inspired Christmas tracks. The album opens up with a brief intro as Grande welcomes her listeners to Christmas, letting them know that it comes once a year. As the songs continue she illustrates a story about how her and her unnamed lover are spending Christmas together.
A Different Christmas EP – Bryson Tiller
"A Different Christmas" is the debut EP by American singer Bryson Tiller, which was inspired from Justin Bieber and Ariana Grande Christmas albums and personal experiences from his life such as spending Christmas alone. The purpose of this EP is to let his listeners know that they are not alone for Christmas even if they are spending it alone. All seven songs consist of soul and trap considering that his trademark is "TRAPSOUL" so he incorporates these two genres into every piece of music he creates and he executed it perfectly on this album.
About the Contributor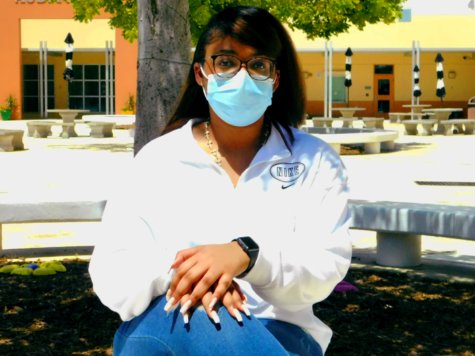 Jada Denaud, Staff Writer
Jada Denaud is a staff writer for The Legend. She is a senior in the IIT program at Suncoast High School. She mainly writes lifestyle and opinion articles. She is currently in Black Student Union and is apart of the finance and fundraising committee. She likes listening to artist such as Megan Thee Stallion, Doja Cat, and Jack Harlow.