Post 9/11 Military Operations In Perspective
November 6, 2021
In total, at least 927,311 people have died due to military operations caused by 9/11, including the Afghanistan and Iraq wars. Here is the breakdown: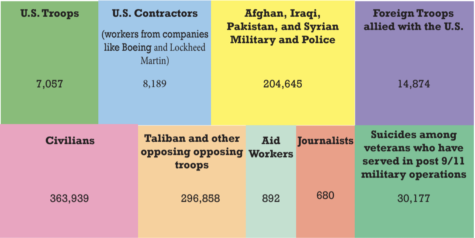 Over 38 million people have been displaced due to the post 9/11 wars. That is equivalent to about the population of California, the largest state in the U.S.
Over 8 trillion dollars has been spent on post 9/11 operations. Most of this was paid for with loans, and interest on those loans could total up to 6.5 trillion dollars. This is over 72 times the richest man in the world, Elon Musk's, salary.
It is estimated that 1.2 billion metric tons of greenhouse gas has been emitted by the U.S. since post 9/11 military operations have started. An average car emits only around 4.6 metric tons per year.
Source: Watson Institute for International and Public Affairs (https://watson.brown.edu/costsofwar/)