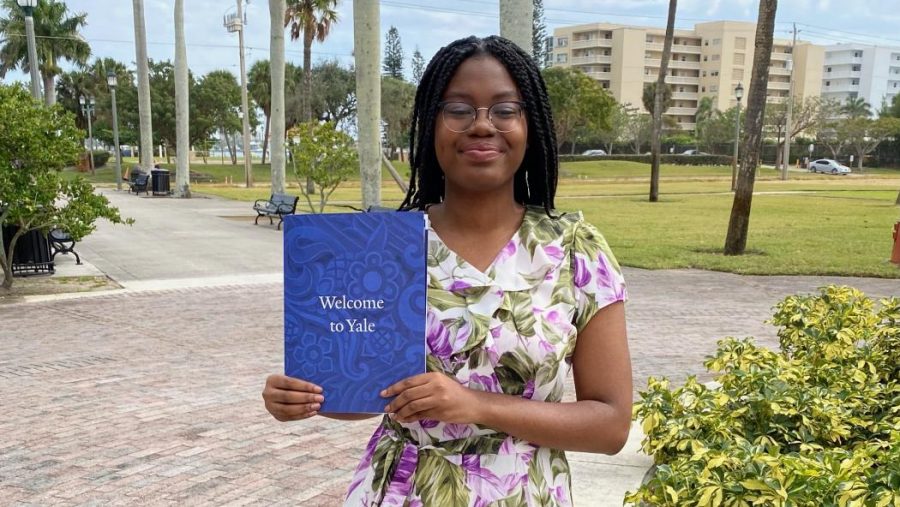 Abigail Is off to Yale!
Senior Abigail Jolteus discusses her plans as a newly admitted Yale student.
February 6, 2021
Abigail Jolteus wanted to make the most of being stuck at home. The binge-watching sessions and impulsive cooking were tempting, but Jolteus wanted to spend her time in quarantine feeling more productive.
She decided to apply for The QuestBridge National College Match, an annual application process specially for high school seniors that excel in academics but have financial stress. QuestBridge has matched thousands of students with top colleges like Columbia, Williams, Northwestern and Princeton. Jolteus had nothing to lose and spent months perfecting her college essays, grades and resume. After a grueling summer full of fatigue and sore fingers from all the typing, the time had finally come.
On Dec. 1, 2020, Jolteus received a message from QuestBridge. The banner saying "Congratulations!" at the top gave her goosebumps. Before she knew it, tears trickled down her cheeks. 
"I got matched!" She exclaimed with a hoarse voice. She could not believe a university wanted her. From prior experience, she knows the sad reality that hard work does not always equate to success, but it was rewarding to see that she was wanted. All the effort she put into her academic career and all the sacrifices she made to be an accomplished student paid off. 
She collected her thoughts, wiped her tears, and scrolled down the screen, fingers trembling on the mouse and her stomach in knots. She read the second sentence. Her eyes widened as she read it once more and the tears she wiped away once again cascaded onto her arms.
"You have been selected for admission to Yale University in Connecticut with a QuestBridge National Match Scholarship!"
 Jolteus never expected to end her 2020 like this. She had no idea what her future would look like in 2021. All she knew was that she would be a Yale student next fall. 
Currently in the 2020s, uncertainty looms over every high school senior's future. The joys of prom, field trips and graduation are unpromised. Like all students, the Coronavirus pandemic devastated Jolteus. It brought her more stress than she could imagine but she tries to embrace this isolation period from time to time.
"Quarantine gave me time to reflect on certain aspects of my life that ultimately allowed me to complete a better application, so there were definitely some blessings," Jolteus said. 
Jolteus's optimism is not the only quality that makes her a wonderful daughter, sister, friend and student. Her modesty, wisdom and kindness are some of her many memorable qualities.
"She quietly and humbly goes about doing things for others, not for any recognition or thanks, but simply because she is a good person," IB English teacher Ashley Busse remarked.
IB Coordinator Maria Edgar, who had Jolteus as a student in her Theory of Knowledge class says that Jolteus "values other perspectives and opinions."  
Jolteus exemplifies her perceptivity and complexity of thoughts through her poetry, which is based on her life experiences and sometimes on the literary works she reads. She posts her poetry on her Instagram account @abby.jo_writes, which has accumulated over 500 followers. 
While she is grateful to be regarded in such a way by her teachers, friends and family as such, Jolteus hopes to remind her peers that she is not perfect. 
"I've had to overcome many failures, but I don't regret any moment of it," Jolteus said. 
To her, not being perfect means that there is always room for improvement. She enjoys learning something from a failure, the feeling of getting back up after a hard fall.
"My successes and failures make me the person I am today.  Life is a journey and although I have many goals I hope to achieve, I definitely wouldn't say I have my life figured out. I am open to change and exploring different directions," Jolteus added.
Jolteus's candor with her weaknesses reinforces how inspirational she is as a leader. "She recognizes her limitations and will be really honest with me about them," Edgar added. "I totally respect that because not many people are like that."
A drastic change awaiting Jolteus and all high school seniors is the transition to college life. The possibility of leaving home on your own and having control over your life is nerve-wracking, but this independence awaits endless opportunities. Once Jolteus graduates from Suncoast, she plans to major in public health and biology. She wishes to pursue a career in medical science and biology not only because of her interest in these fields but in hopes to rectify social inequalities in healthcare.
As a daughter of Haitian immigrants, she has continuously witnessed her parents be stripped of their hopes and dreams because of financial instability. Now that Jolteus was given the opportunity to represent her family and her people, she will embark on her dream of becoming "a physician who empowers marginalized communities and contributes to dismantling disparities in healthcare."