McDONALD'S MEAL MADNESS
McDonalds' new celebrity meals are spicing up the menu.
November 19, 2020
Fast food giant McDonald's has been on a hot streak with adding new celebrity branded meals to their menu. First the Travis Scott meal, based on the infamous "Sicko Mode" rapper was added, and now the J Balvin meal, based on the Colombian singer who most famously performed at Super Bowl LIV.
These meals, especially the Travis Scott meal, have been gigantic hits. The Travis Scott Meal has become a meme on the internet and has spread rapidly, resulting in millions of meals being sold and consumed. Here are the key differences between the meals: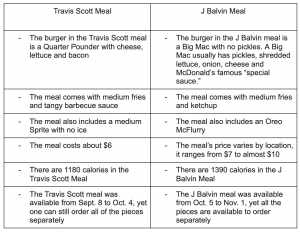 "I never tried it because I'm a vegetarian but I know for a fact the Travis Scott meal is lit," junior Juliette Ega said.
In a poll conducted with Suncoast students, the J Balvin meal was crowned the winner between the two meals. About 55 percent of students said the J Balvin meal was the better of the meals, while 45 percent said the Travis Scott meal was the best. The J Balvin meal was generally crowned the best due to the inclusion of the Oreo McFlurry.
"The Balvin meal comes with a McFlurry and those are so good," freshman Anyla Williams said. 
In the same poll, about 84 percent of students said that they tried the Travis Scott meal and 83 percent said they tried the J Balvin meal. It is no doubt that students are eating these meals up, as the meals generally taste great and are a good deal. 
"I like the Travis Scott Meal better probably because of the burger mainly. Everything about the burger is good," senior Janiya Lormont said.  
On the other hand, the meals are very unhealthy. The Travis Scott meal weighs in at 1180 calories and the J Balvin meal weighs in at a whopping 1390 calories. Between the fries, drink and burger, the meals are loaded with sugar and sodium. 
"Sad to see some of our greatest creators promoting food that is so terrible for our health," senior Bruno Neira said. "I'm sure J Balvin and Travis Scott never eat [McDonalds], instead they have personal chefs and nutritionists."
The Travis Scott and J Balvin meals might not be healthy, but they are definitely big hitters on the McDonald's menu. These meals have riled up hordes of customers and fed millions.