THE DAY OF REMEMBRANCE
Celebrating the living and the dead during Día de los Muertos.
October 28, 2020
It is the last week of October and Senior Daniela Carmona is helping set up an altar in her home. It holds many of her family members who have passed on. She sets up picture frames and places some marigolds. She smiles at the memories resurfacing as she continues to work.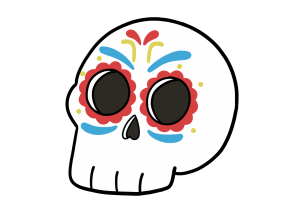 The altar is for Día de los Muertos or Day of the Dead, a Mexican holiday where the dead and living are reunited. The celebration honors the memories of the dead and celebrates life. People come together to tell stories and share their memories. The night is filled with laughter and fun as families gather together.
"We celebrate by baking typical dishes and "pan de muertos" (a special bread for the day), and by taking the time to remember and connect with our loved ones," Carmona said. 
The celebration is one of love and memories. This day is meant to be happy, where family and friends gather together to tell memories of the people not with them anymore. Treats are baked and shared, music is played and people are dancing and celebrating. Everyone cheers and laughs as they talk and share memories. 
"Día de los muertos has really helped me in dealing with the deaths of those I care about, especially the one of my young cousin. For us they haven't truly died as long as we remember them, and that's something really important to my family and I," Carmona recalls cheerfully. 
The special holiday is sometimes regarded as "Mexican Halloween" which is untrue. The celebration has no relation to Halloween and is disrespectful to the culture and those who celebrate it. While both holidays are celebrated near the same time the two are not related nor are they similar in execution. 
"I hope that people can become more educated in other cultures so they don't wrongly represent them," Carmona mentions.
The celebration occurs over two days and is implemented differently depending on the area you live in. Each variation is special and makes the celebration even more exciting. For example, in Mexico City, they throw a big party and even a parade that everyone can participate in. People gather from all around to see the costumes and taste the food. Despite the differences, the celebration transcends boundaries and brings people together. While the celebration is most prominent in Mexico, it can be celebrated anywhere in the world. One does not have to be in their home state to remember loved ones. All one needs is some good memories and a handful of people to tell them to. 
"Celebrating definitely makes me feel closer to my culture, as it is such a big celebration in Mexico, and it's something that we can keep celebrating no matter where we live. I intend to keep this tradition every year, no matter where I am," Carmona stated.
Hispanic culture is fascinating and traditions run deep within their heritage. Every tradition should be respected and held in high regard, while also being accessible to practice and learn about. In recent years, there was a spotlight on Día de los Muertos in the movies "Coco" and "The Book of Life." Each portrays the afterlife differently yet they stay true to the culture they are based off of and respect it.
"I love sharing my culture with others. My hispanic culture is such a big part of me, and there's so many aspects of it that I think everyone should learn about and experience. In the same way, I love learning about other people's culture and customs," Carmona remarked.
It is important to be mindful and informed of other cultures and respect how others may celebrate a holiday. This makes it possible for everyone to have a good experience and fun while also learning something new.