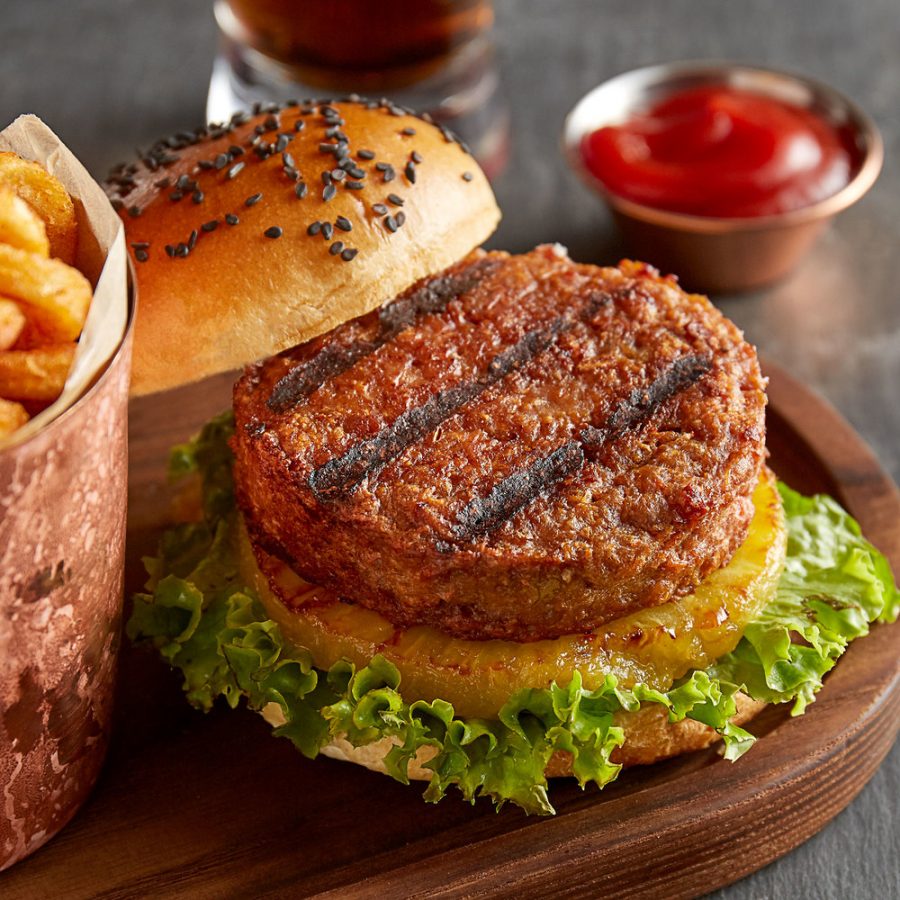 I Can't Believe it's not Meat
Beyond Meat® has made tremendous strides in the meat-free food industry.
April 8, 2020
Beyond Meat® is a company that produces foods that typically contain meat, but are instead made of plant-based products. That shift, from animals to plants, can benefit the environment, human health, and animal welfare. The company's goal is to give people the "taste-and-mouth" feel of meat. Their top product, the Beyond Burger®, is made up mostly of pea protein, mung bean, and rice to deliver a meatier taste and texture that mimics the chew and juiciness of beef, a more neutral flavor and aroma profile that is closer to the real thing. However, critics are saying that it is still not a "healthy" alternative to real meat; because the company strives to make products that taste like real meat, oils and other unhealthy ingredients are added to do just that. So is Beyond Meat® the way to finally stray away from real meat? Yes and no. 
Yes
Firstly, the Beyond Burger® has 33 percent more protein than the traditional beef patty, and about 71 more grams of potassium, which helps regulate fluid balance, muscle contractions and nerve signals. "I think [the Beyond Burger®] has the potential to be world changing," senior KJ O'Brien said. Also, the meat alternative is better for the environment, as the production of meat products releases carbon dioxide into the air. "I think it is great for the environment, and modern processes that make it taste like real meat help, too," O'Brien said.
No
Although Beyond Meat's® products do not contain meat, this does not mean that they are healthy. Yes, they have health benefits that meat does not have, but the Beyond Burger® itself has 25 percent more fat than the traditional beef patty. Also, they have over five times as much cholesterol. Freshman Aidan Skolnick said, "I would much rather get my protein pure from beef than from manufactured patties." 
Beyond Meat's® has changed the food industry, as there is now a quality alternative to real meat. One could weigh its health advantages and disadvantages, but it is for sure that the company will continue to produce meat alternatives, and one day, even make something that everyone enjoys.