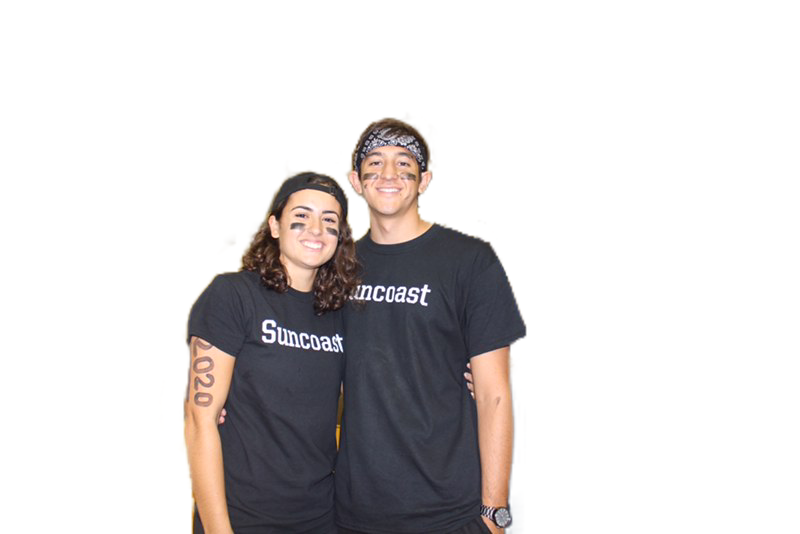 THE ICONIC SUNCOAST DUO
A look into the lives behind the face of Suncoast spirit
October 2, 2019
The students started packing in. The bleachers went from empty to filled in just minutes. It was finally time for the first pep rally of the 2019 school year. Seniors Marlee Marquez and Gavin Smith were getting themselves pumped up to become the new faces of Charger Pride. They were ready for their first appearance as Mr. and Miss Suncoast.
For Smith and Marquez, being Mr. and Miss Suncoast was always an aspiration early on in their high school experience. They looked up to previous Mr. and Miss Suncoasts as underclassmen.
"Ever since the first pep rally of freshman year, I've had the vision of becoming Miss Suncoast. The pure charisma that the role stood for and the emulation of school spirit was something that was fascinating to me. Being that kind of leader was something I wanted to take up," Marquez said.
They were also motivated by their peers to try out for the position of Mr. and Miss Suncoast.
"I've known Marlee and Gavin since freshman year and I definitely could never picture anyone else as Mr. and Miss Suncoast when we became seniors," senior Dakota Brisco said.
Some of their responsibilities as the faces of Suncoast include hyping up the students during the pep rallies and leading the Charger Pride Club during football games and other school activities.
"We want to advocate more widely for events throughout the school and make sure that people know things in advance so that we can express the most school spirit possible," Marquez said. She included that they even "have a 'Game of the Week' project in the works to get students more involved with all the sports at school."
Their jobs are not as easy as it seems, though. Beneath all of the hype, being Mr. and Miss Suncoast requires hard work and discipline.
"One thing students may not know is how many extra hours we are putting in, in and outside of school planning and organizing events that everyone can enjoy," Smith said.
Marquez added, "Planning the pep rallies can be time consuming and stressful, and making sure that everyone is on the same page for the event takes a lot."
Smith and Marquez must work together as well as with members of Student Government to plan events such as Homecoming and pep rally activities. They also organize the student section, or "Hype Squad," at home football games and encourage students to come support the Chargers.
Smith said, "The main reason why I wanted to become Mr. Suncoast was so I could help improve everyone's Suncoast experience, especially when it comes to pep rallies and sporting events."
Having to hype up over 1,500 students, Smith and Marquez have some big shoes to fill. With this responsibility always comes some backlash. They are constantly receiving criticism and opinions on how the pep rallies should have been run or the activities that took place. However, they are always open-minded and welcome the suggestions of the student body to try to please as many people as possible.
"Come to our Charger Pride meetings and get involved," Marquez said. "We want input, so if you want change get involved!"
Amongst all of the backlash, though, being Mr. and Miss Suncoast comes with great satisfaction.
Smith said that his favorite part about becoming Mr. Suncoast was "the pep rallies and seeing everyone get really hyped up and excited when we run around with the spirit stick."
Marquez enjoys "making the vision that we have for the pep rallies come to life" because it brings a good time to the student body.
Additionally, as Mr. and Miss Suncoast, Smith and Marquez must be role models for the Suncoast student body. They have good relationships with the Suncoast staff, are friendly to students of any grade level and maintain good grades.
The future of Suncoast spirit lies in the hands of Smith and Marquez. There are still many pep rallies to come and the hype never stops for the two. They have big plans for the 2019 school year and hope to make it a memorable one for all classes.
"This year for the pep rallies we want to make them bigger and better than they have been before. We want to try new things that people haven't seen before and make it more enjoyable for everyone," Smith said.