MARK ANTHONY: STRICTLY CURLS
The hair product that social media is raving about.
September 29, 2019
People with hair that ranges from simply wavy, or tight coils are all sharing their experience using Marc Anthony: Strictly Curls. This product is giving curly hair a new dimension and users of all different hair types are pleased with the results after usage.
Marc Anthony has various products under his hairline. His most popular products are his curl lotion and curl cream. The Curl Defining Lotion is mostly used by people with naturally curly hair. The curl lotion is a non-sticky yellow substance that has the consistency of regular hand lotion. The formula is enriched with Vitamin E and Silk Protein, which helps to define curls, while still keeping them soft to the touch. Unlike gel, the curl lotion is light weight on the hair, and adds shine while keeping your curls as bouncy as ever. The lotion is Paraben-free and Sulfate-free, while also being Phthalate-free, which are ingredients that can potentially damage your hair over a period of time.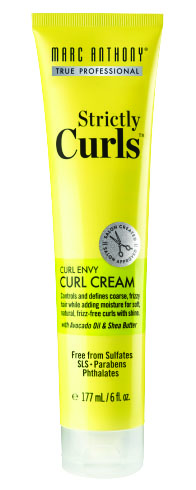 "Gel usually made my hair super sticky and felt heavy, but when I used the curl lotion, my hair looked light weight and just looked and felt better," junior Kelsea Frederick said. 
The product is simple to use, and can be used alone. To use it, simply apply a dollop of the product onto damp hair. Spread the lotion thoroughly through your hair. Use a diffuser to dry the hair and help shape your curls. To create spiraling curls, gently twist small random sections with your fingers.
The Curl Envy Curl Cream is another popular product from the Strictly Curls hairline. Dozens of review videos have been put onto Youtube because it can turn straight hair, into wavy curls. The curl cream is formulated with Shea Butter and Avocado Oil. It also contains Vitamin E just like the curl lotion previously mentioned. This product helps add shine and can be used for frizz control. The curl cream can be applied just like the curl lotion and these products are only $6 and can be easily accessed from any store, including Walmart or beauty supply stores. 
The Strictly Curls hairline was created over 20 years ago by World Hair Styling Champion Marc Anthony. Today the Marc Anthony Professional Styling Team continues the mission of innovation, trends and the guarantee that each product must deliver superior results to be worthy of the seal "Salon Created-Salon Approved." Their goal is to make your daily hair routine more efficient with a single product.