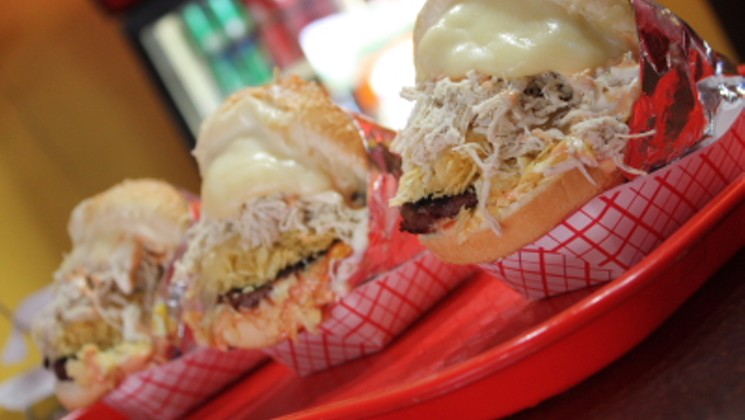 LA PERRADA DEL GORDO
A Colombian restaurant shares their food and culture.
It is known that South Florida has a large Hispanic community. With such a large Hispanic community, there are also many Latino restaurants open all over the state. There are many different restaurants from different countries, like Honduras and Colombia.
A restaurant that has generated a huge buzz is a Colombian restaurant called La Perrada del Gordo, most commonly referred to as Gordos. With three locations spread across the Palm Beaches, the restaurant always has people lining up to try the variety of dishes that La Perra del Gordo has to offer. Its owners Elizabeth Novoa and Miguel Martinez, started off renting a mobile hot dog cart. They were constantly moving it up and down Military Trail and called customers to inform them of their new location every day. It was in June of 2004 that they got a fixed location at the flea market, and finally opened their West Palm Beach location on March 8, 2007. The restaurant became so popular that on March 8, 2012, they opened a second location in Boca Raton. Each location receives hundreds of customers daily, all because of the food they sell.
"There are a lot of different foods to choose from at Gordos, but the one I like the most is the Gordo Burger," sophomore Christian Cabeza said. There are many students at Suncoast that hang out with each other after school and one thing a lot of people want to do after school is go grab something to eat, so they drive all the way to Gordos to get a quick meal. "Christian and I go eat burgers at Gordos after school sometimes. Last time we went was on a Friday, and the food was amazing," said sophomore president, Maximus Whittaker. With just one dish, you are sure to be full to the point where you can barely walk.
There are certain dishes that a lot of people go to enjoy. One dish is the Gordo Burger. The Gordo Burger contains tomatoes and a beef patty. It also has crushed potato chips and their homemade pineapple sauce. The pineapple creates a perfect balance between the sweet and savory flavors packed into this burger. It also comes with the option of two different meats, which are shredded beef and chicken. They have a variety of sauces to include in the burger itself, like their famous pink sauce. Their pink sauce is also called la salsa rosada. Its main components are mayonnaise and ketchup. Lime juice is added and some salt and pepper, to create the delicious salsa rosada. To top it all off, it has melted cheese oozing at the sides, which makes your mouth water in an instant.
Another popular dish includes La Arepa Rellena. Arepas are a very popular dish in Colombia, and are eaten in many celebrations and also can be eaten as an everyday food. The arepa breading is the most important thing about it. There is a certain way to make it, that has been passed down from generation to generation. The dough of the arepa is made with dehydrated cooked corn flour called masa arepa. Mixing the corn flour with water will create the dough needed to make an arepa. The bread is then stuffed with melted cheese and pulled pork. It is all topped off with their special pink sauce and brought right to your table. Arepas are usually very hot though, so letting it cool down before eating it is the best option to enjoy it to the fullest.
La Perrada del Gordo is a place that many people have to try at least once. The variety of foods and flavors that the restaurant has is something unforgettable. After trying one of their famous dishes, you will want to keep coming back for more.