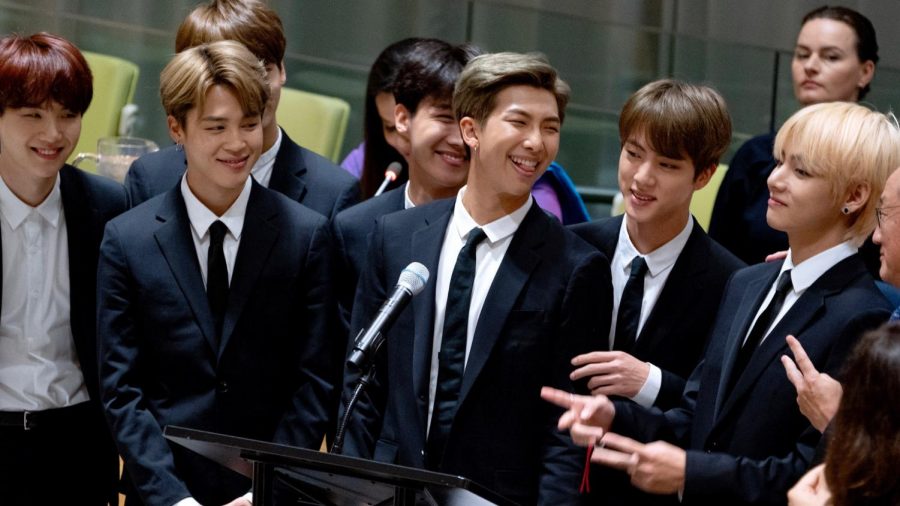 POP-LITICS
Pop artists make a statement about the world's politics.
December 7, 2018
Social media has dominated the twenty-first century, initially consisting of online messengers and social networking sites. It has expanded into making profit off these services on platforms such as Youtube, Instagram and Snapchat. Artists have even gained recognition after posting song covers on the Internet.
The idea that celebrities gain recognition through mass media is known as "pop culture" and it is targeted towards audiences aged 18 and under. Now, these audiences have access to elections and determine the future of society.
Pop culture influencers, such as Korean supergroup BTS and American rapper Kanye West, are using their impact and integrating politics into their messages to convince their following to participate in the global mission to harmonize and unite for peace.
On Sep. 24, 2018, BTS attended the United Nations General Assembly, and leader RM gave a speech about self-love, a theme to their album series "Love Yourself" and how it can drive one into devotion for participation in global change.
"We have learned to love ourselves, so now I urge you to speak yourself." RM said. "Tell me your story. I want to hear your voice, and I want to hear your conviction." The group initiated a campaign under UNICEF called "Love Myself" and earned over $1 million since the launch. All proceeds will go towards the protection of child and teen victims from violence.
"[BTS is] one of the biggest groups in the world right now and taking advantage of their influence," Kuasha Chowdhury said. "They are asking their fans to not only tune into their music, but other worldly issues such as violence and mental illnesses, and now they're integrating fan culture into philanthropy."
Kanye West moved past his solely musical persona and shared his political views with his fans. West is an avid Donald Trump supporter, posting photos of him donning the famous "Make America Great Again" hat and promoting President Trump's agenda. West also gave an off-script rant on Saturday Night Live to show his support towards Trump and his resistance to hatred.
"Follow your heart and stop following your mind," West said. "If you want the world to move forward, try love." West continued his speech, stressing that people should not be so quick to hate, and should respect the opinions of others. He felt "free" and voiced his concerns and desires to the American government on Twitter.
"Kanye is known for putting himself out there," freshman Brandee Jones said. "With his energy and stubbornness, he will leave a lasting impression on his fans, the public, the news and everyone is bound to hear his perspective."
These artists hope that their message of love can push the current generations to participate in political reform. With the world in the hands of young adults, the figures of pop culture may be one of the outlets to stirring up societal progress.