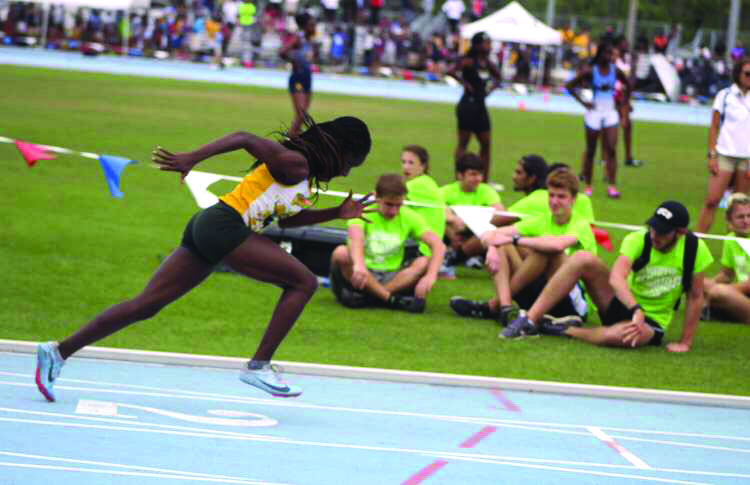 RUN TO LIVE, LIVE TO RUN
Latasha Smith is one of Suncoast's best track runners yet.
November 9, 2018
With the sound of the starting pistol, she is off. The adrenaline and anxiety course through her veins, and her legs take long, pounding steps that soon became leaps on the ground beneath her. She is like a bullet fired from a pistol, with her hair whipping behind her like the remnants of smoke. Her name is Latasha Smith, and with the speed and energy of a bullet, she has claimed a spot as one of the nation's fastest high school runners.
Smith began running in the beginning of elementary school and has continued the sport ever since; her love for track sprouted from her natural abilities, and her dedication has won her a multitude of awards. This includes being named the fifty-first best runner in the nation and the tenth best runner in Florida for the 400 meter dash.
"I've always had a natural talent in running so learning the mechanisms and techniques about how to improve my running was a factor of me falling in love with the sport, along with the track meets," Smith said. More of her awards include most improved sprinter, sprinter of the year and the MVP award; other track related awards include receiving a letter from a Florida state senator and getting scholarship offers from universities such as UCF.
Smith's love for running has pushed her to strive for the best, and this includes a consistent training schedule. She ensures that every week she is practicing and training, with only two off days per week and a summer break. Her training is to help her run faster and more efficiently, as well as make up for her weaknesses.
"I… am flat-footed, which is uncommon for sprinters to have because people with flat feet normally don't run," Smith admitted. "…but I manage to pull through."
Her biggest challenge, however, comes from her own self doubt. Because she is much smaller than most other track members, only around five feet, so she has to train harder to compensate for this as well.
"I tend to have a habit of thinking everyone I will or have competed against will eventually beat me because most track runners are tall and strong," Smith revealed.
Another challenge that Smith faces is balancing the rigorous Suncoast IBCP coursework with her demanding sport. Because she stays after school late to practice and lives so far away, she often gets home late and has to stay up late to do her homework, or procrastinate on doing her work. She also misses practice if necessary, but this only occurs about once every few weeks. Her stress from both school and striving to do better for herself and her team have even led to injuries.
"Sophomore year I did hurt myself by stressing and overworking my muscles from running and stretching excessively," Smith recalls. Since then, she has taken better care of her health and is more cautious regarding overworking herself.
Although Smith does not know how far this sport will take her, she knows that it is her passion and she will follow it for however long that she can, which includes participating in track in college.