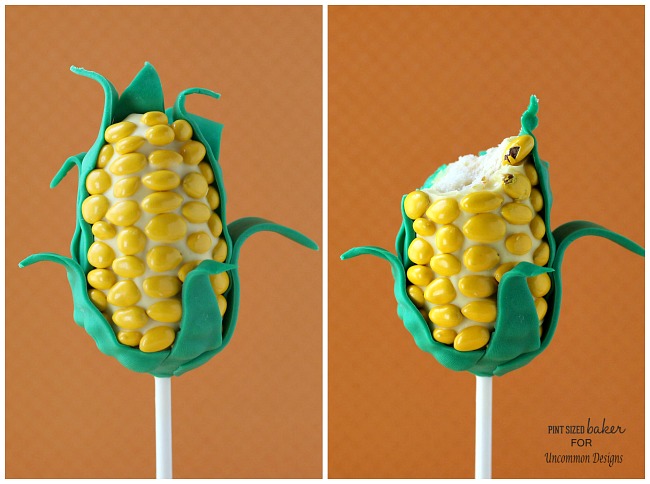 THANKFUL FOR SWEETS
An easy dessert that lights up the Thanksgiving buffet.
November 2, 2018
When people think of Thanksgiving, two things usually come to mind: the Macy's Day Parade and food. As everyone sits together watching the parade, a craving for something sweet to nosh on usually occurs. This is a cute dessert everyone will love that is equally easy to make and extremely festive.
Corn On The Cob Cake Pops
When you hear the word fall, corn is one of the prominent things that people think of. The supplies that are needed to make the cake pops are frosted sugar cookies, vanilla frosting, a bag of yellow M&Ms, a pack of straws, yellow food dye and edible green fondant.
Step 1: Put 1 cup of the vanilla frosting in a bowl and add two drops of yellow food dye and mix until there is an even consistency of color.
Step 2: Break the sugar cookies into small pieces and put them in another bowl, then add ¼ cup of dyed vanilla frosting, and knead the dough until the consistency is smooth and sticky.
Step 3: Shape your dough into 3D corn like an oval shape. Make sure that they are relatively large, so that they do not break apart when they are put on the straws.
Step 4: Take your yellow M&Ms and cut each M&M in half.
Step 5: Place your cake dough on the straws and dip them into the remains of the yellow dyed vanilla frosting, then take a butter knife and smooth the frosting around the cake pop.
Step 6: Place the cut M&M pieces in rows along your cake pop, so that they resemble corn kernels. After this is completed, roll out the the edible green fondant (add a little powdered sugar to the cutting board to keep the fondant from sticking to the board).
Step 7: Cut the fondant into different sized ovals in order to make corn husks. Precision is not necessary. Cover the fondant with some plastic wrap to keep it from drying out and cracking. Place the cake pops in the refrigerator for 30 minutes.
Step 8: Then stick the fondant on your cake pop. If the fondant is not sticky enough to do this, use some more frosting to act as the glue.
Step 9: Plate them and serve.