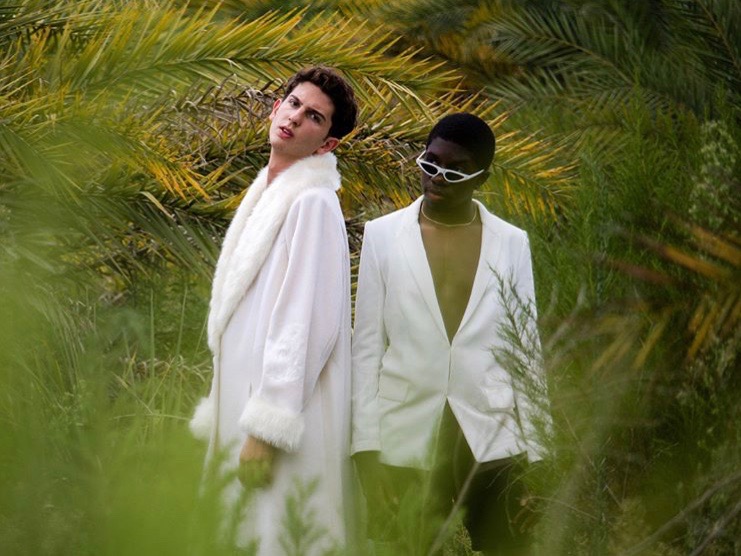 CREATIVE MINDS THINK ALIKE
A creative duo showcases the beauty of difference through photography.
November 28, 2018
Peering through the viewfinder of his camera, the photographer signals his model to change angles. Effortlessly, the model reconfigures himself in a distinct pose ensuring that his eyes continue to pierce the camera lens with a powerful gaze. The shuttering of the camera echoes in the distance as the photographer and his model wrap up their shoot. Photography can be classified as an art that captures the beauty within society and nature. For Michael Leggett and Trevon Fields, photography serves as an outlet to express and showcase the creative imaginations that lurk within their minds. Both Michael and Trevon teamed up together to create a "co-op" page consisting of many photography concepts that intertwine the common motifs of natural beauty, unique fashion and raging curiosity. Their work ranges from pictures of a young woman sitting on a kayak in the middle of a movie theatre to an awe-filled Fenty inspired fashion photoshoot. Their minds are open to the beauty that lurks within creativity and showcasing that beauty is what really makes one stand out as an eccentric individual.
They began immersing themselves into photography fairly recently. "I purchased my camera just over a year ago, around September. But, it was not until December of 2017 that I started thinking of photography beyond the camera aspect. Sharing my ideas with Trevon, we found that we had similar ideas and visions for photoshoots, and from there we began to work tightly in planning ideas for future photos," Leggett said.
"In technical theatre, during preparation for the fall show last year, Michael would take snapshots of the cast and together we would make posters. Since we had so many classes together and we are friends, we both talked about our interest in photography and creating moments of art, and from there, we started planning and doing pictures together. We decided to work together because we have similar views and both wanted for out pictures to be different and professional," Trevon Fields said.These experiences show the preliminary drive and curiosity that encompassed both Fields and Leggett resulting in these unique and creative works. Leggett's initial interest in photography was spiked due to first-hand experience with his closest friends. "I had two really close friends that were invested in photography and seeing the resulting images immediately captured my interest," Leggett said. Although these photo shoots come out visually awe-inspired, a lot of work has to be done in order to conduct a shoot successfully. One needs to have a plan so the shoot can be organized and the models will know what to wear and where to be. Both Leggett and Fields do an outstanding job planning out their shoots. On their instagram page, one could tell that every post has a different meaning. The angles, outfits, light exposure and colors all have a distinct purpose that aids in showing the versatility of their ideas.
"Our methods are constantly changing. Sometimes we see a piece of clothing that we love and base it off of a model that we really want to shoot with, or sometimes we just come up with a really interesting idea and do everything in our power to execute it. For example, I really wanted to take photos with a kayak and Trevon really wanted to take photos in a movie theatre, individually, these ideas are too broad (and boring). But together, the kayak and movie theatre make for something weird and never really seen before. Although the idea seemed impossible to do, a local movie theatre was more than happy to accommodate us with our idea," senior Leggett explained. Sometimes their visions do not only stem from the ideas that bloom in their minds, but also from the works of other famous figures and photography influencers. Leggett admires Rihanna and her influence in the fashion and music industries as well as her photographers Paolo Roversi, Inez and Vinoodh and Ellen von Unwerth.
"I take inspiration from anyone and anything. Beyoncé definitely is a huge inspiration of mine because of the risk she takes and the versatility she has with patterns, materials and different cuts and fits. Some other modern inspirations of mine are Odell Beckham Jr., Michael Jackson and Will Smith. I love his sense of fashion both on and off screen," Fields explained.Together, they believe that photography has opened a door, enabling them to to learn the importance of standing out and being their own persons despite what the world thinks."I like being able to grasp onto concepts that are just floating around in my head and bringing them to life with my friend. I enjoy looking for the value in all types of things and trying to create a photo that conveys that value to everyone. Everything has value as well as every person, which is an another reason why I love photography because it allows diversity to act. I have found that there are people in this world that try to devalue you based on identifiers, such as race, but everyone's beauty deserves to be showcased," Fields said. "We can not stand things that are overplayed or cliché, because who wants to see the same things over and over again? Of course there's those people that do not like seeing things that are different and fresh, but we also have seen that people appreciate when they spot something original…" Leggett expressed. Many of the models that have worked with the duo enjoyed sporting for them. "I enjoy everything about modeling for Michael and Trevon, it's like being a barbie doll and getting to wear cute clothes all the time," senior Emma Alexis said. Photography in general has shed a positive outlook on their future and career path. Both Fields and Leggett want to major in business during college, which will allow them to eventually merge their knowledge of photography and create a photography business. For now, they will continue to devise unique concepts for their shoots and execute them throughout the years. Who knows, maybe, Beyoncé and Rihanna will be inspired by their work.