THREE DAY WEEKEND?
In order for students to live balanced lives, schools need to be willing to make a change.
October 24, 2018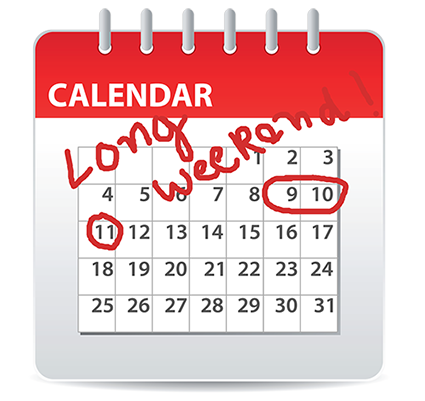 As the bell rings, students saunter their way to class with nothing but their bags and lack of sleep hindering them from moving ever-so swiftly. Waking up early to attend school can be tiresome, and many times students yearn for the opportunity to have an extra day to perfect their work and remain stress-free. It is ironic how schools can enforce the idea for students to provide balance in their lives, but they can not balance out the school schedule to allow them to fully attain that "balance." Suncoast, for example, is known for its rigorous programs which require students to complete a plethora of projects and assignments. Often projects from one class become intertwined with a project or assignment from another class, resulting in the student being riddled with stress and anxiety. Some may argue that the reason why students are faced with these issues is due to their procrastination or lack of self-motivation. While that may be true, one can see how the school schedule is a prime factor in both the inhibition of student self-improvement and the onset of procrastination.
A typical school week in Palm Beach County runs from Monday to Friday with Saturday and Sunday off. High school students are encouraged to attend school every day to obtain the "utmost education" while simultaneously following this five-day-week schedule. Students should not have to be forced to endure stress which could easily be caused by the unbalance of the school schedule. Instead, schools should follow a more balanced schedule to give students the opportunity to effectively reflect on the week, catch up on assignments and maintain balance in their social lives. Now, there are schools that have implemented this schedule and seen major results in overall student performance. In fact, just 42 miles south of Suncoast lies a school located in Broward County that executes the four day schedule (with Friday being their day off). Pompano Beach High School has implemented this schedule for several years, giving their students an opportunity to provide balance and sustainability in their lives. According to a 2016 data chart on test score results, the US News stated that student passing rates for the AP exam at Suncoast was four percent less than that of Pompano Beach in 2016. One could only imagine what it could be like now. While the implementation of four day weeks are not followed at Suncoast, there have been times when a holiday allowed students to be off a day out of the week. Labor day fell on a Monday this year and many students felt it was a great way to study, relax, and start the week off fresh.
"With the four day weeks it really has allowed me to spend more time on my academics and study topics I struggle with. I actually was able to get the full recommended eight hours of sleep opposed to my usual five hours. I woke up more energized and happy and wanting to do things during the day. The day off gave me the opportunity to hang out with my friends, since we are all to busy during the week. I could also spend more time practicing for games for the upcoming week," Junior Oluchi Nwankwo said.
"So for me at least, a four day week meant that I have enough time to sleep, complete a large percentage of my homework and studying, socialize with family and friends, while also enjoy time to myself that I don't always get during a regular week. Basically, a four day week is a week that allowed me to participate in all the activities that I want to or should be able to do that I can not do in a regular week because I just don't have enough time to do. I am also generally happier and more ready for school after a three day weekend, because I feel that I have had enough time to do everything," Junior Francesca Peuguerro Said.
As seen above, in order for students to be able to manage heavy workload, along with extracurriculars and others, schools need to be willing to make a change that can benefit their students and help promote independence, self-discipline, and balance. These four day schedules can help students prepare for the independence that will be essential in college. Students forget that they have a profound impact on their education in college, and without self-motivation and balance this may be hindered.