BEHIND THE SCENES
Chantres Smith's work goes beyond the typical role of a school resource officer.
December 8, 2017
Cars pull up. The infamous morning drop-off line forms. Students wait outside. The gates open. Chantres Smith is there to usher in a new school day.
Smith is Suncoast's school resource officer (SRO), more commonly referred to as the school police. "My job is more than just being an officer," she said. "Sometimes I'm in the capacity as a counselor, mentor, coach, or motivator for all of the students."
According to the National Association of School Resource Officers (NASRO), a school resource officer is a certified law enforcement officer that works with schools to provide a safe learning environment for students and resolve any personal issues that may arise.
"I didn't realize coming into the school police department the impact I would have on students, even in my first year," Smith said.
Fostering a sense of community and support within the school is an important part of Smith's role.
"I want to make a difference. One thing I have learned is that you never know the impact you'll make on someone just by saying 'hello' and 'good morning' and giving a friendly smile," she added.
And Smith has clearly made a difference on the students with whom she has been
able to interact.
"As a parent figure, I realized that each student has his/her own situation – peer pressure, something at home, academics, conduct. What happens prior to school at home impacts their day. Some students are open to sharing personal information with me, and my door is always open. "
Smith is heavily involved with ensuring that all students are capable of reaching their fullest potential, especially when she worked at an alternative education school and Howell L. Watkins Middle School where she started a book club for students whose reading abilities were "almost at proficiency but not quite."
"My favorite memory is the book club I had with students who struggled with reading. For some, financial restraints meant they couldn't pay for books," she recalled. "Basically what I did was [incorporate] reading counts points for the students. I could then monitor if they were actually reading. That was the purpose of the book club – to have an impact on the students."
Smith's goal is to be able to create a lasting impression. One time, she even gave a bicycle to a student who was unable to afford one. Another student had difficulties communicating with his mother, so she donated a laptop with a webcam.
"I like to do things from the heart. I like to reach out to students and their families," Smith said.
Outside of the school setting, Smith is involved in her community as well.
"I work on and off with Sister of Esther, a mentoring program to help build self esteem, confidence, skills/ability, good decision-making, leadership, problem solving, positive peer relationship, academics, self-respect, and a sense of community," Smith said.
Smith also participates in the annual Shop with a Cop event where children in Belle Glade received a gift card to shop at Walmart with a school resource officer.
"We all rode school buses over there, ate breakfast together and took pictures. That was an awesome experience. Those kids were so happy," she said.
Her work, however, is not always easy. Some people associate school resource officers with traditional law enforcement, embodying a negative reputation.
"Depending on the environment, some communities don't have a positive [view] of law enforcement; I like the challenge. I try to be different from what they have experienced," Smith added. "One common misconception is that within the school district, sometimes people think that because officers have a gun, they can do anything and that's not true. It is not always a negative encounter that [we] have with people"
Despite the challenges, Smith is grateful for her career so far.
"I try to help, but I'm not perfect," Smith said. "I have had a couple of bumps down the road, but it is worth it. The positive experiences always outweigh the negative."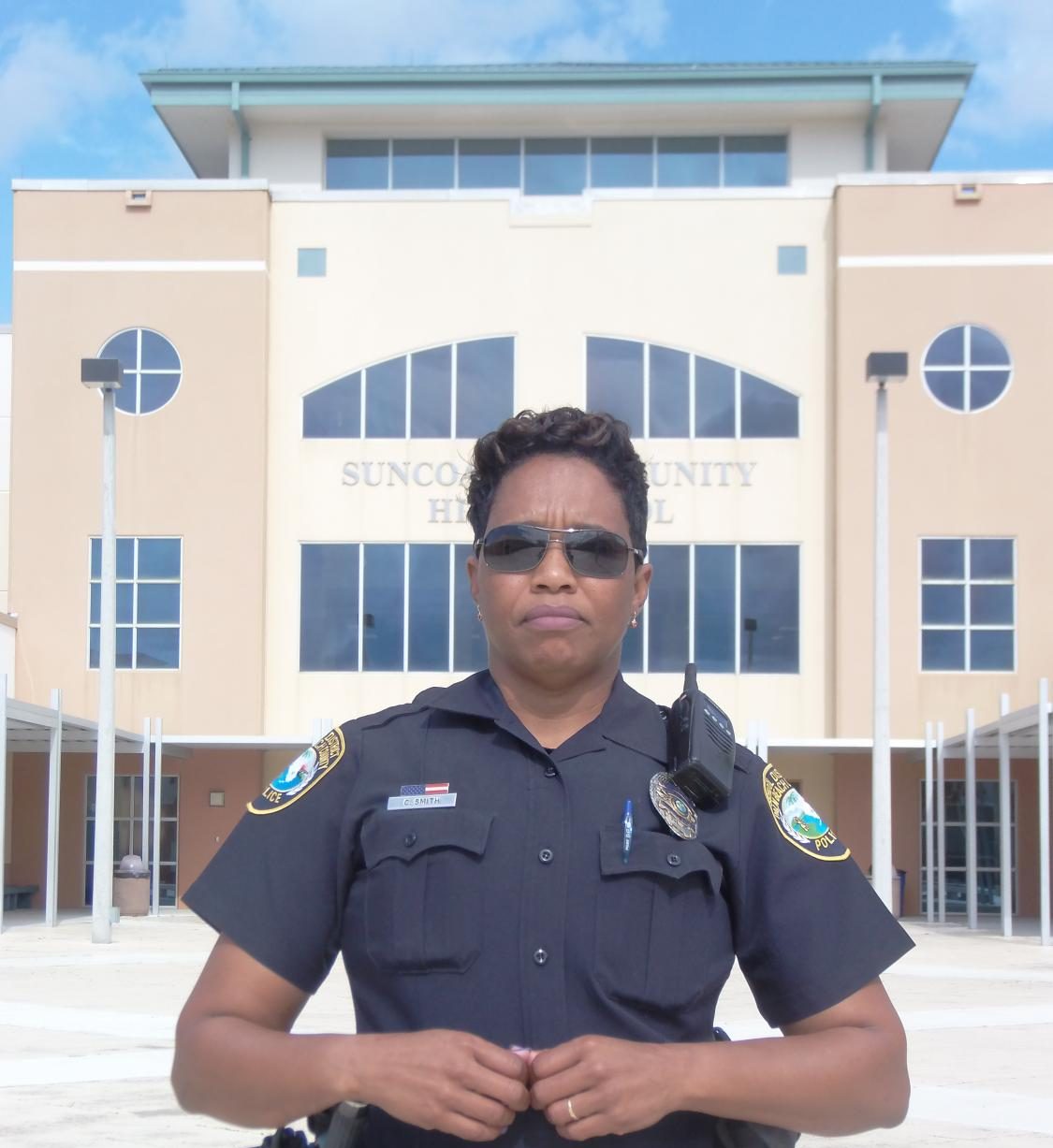 Q: What is one thing that you want people to know about you?
A: I definitely believe in paying it forward. I like to reach out and help – find
resources for those in need and give back to the community around me.
Q: What is your favorite part of your job?
A: The best part in the high school setting is seeing freshmen students transform into young adults when they graduate as seniors.
Q: What do you like the most about working at Suncoast?
A: I liked the warm welcoming I received from the students. I am now officially a charger!
Q: What was it like working at an alternative education school?
A: The alternative education setting was different. It took some time to build rapport with the students. When they needed to cool off, they could sit with me and talk.