FENTY BEAUTY BY RIHANNA
With a desire to create an inclusive makeup brand, Rihanna made fenty beauty.
December 8, 2017
Celebrity makeup lines have been all the rage for many years; however, they have recently become increasingly popular. From Kylie Jenner's infamous Lip Kits to Drew Barrymore's Flower Beauty line, they have consistently been popular among individuals of all ages. Despite the many celebrity makeup lines that already exist, Rihanna found that something was missing. Rihanna noticed that makeup for all skin tones was something absent from big-name cosmetic stores, including Sephora and Ulta. Inspired to create an all-inclusive makeup line, Rihanna came up with Fenty Beauty. With 40 foundation shades, the overriding factor of inclusivity is prevalent in the makeup line.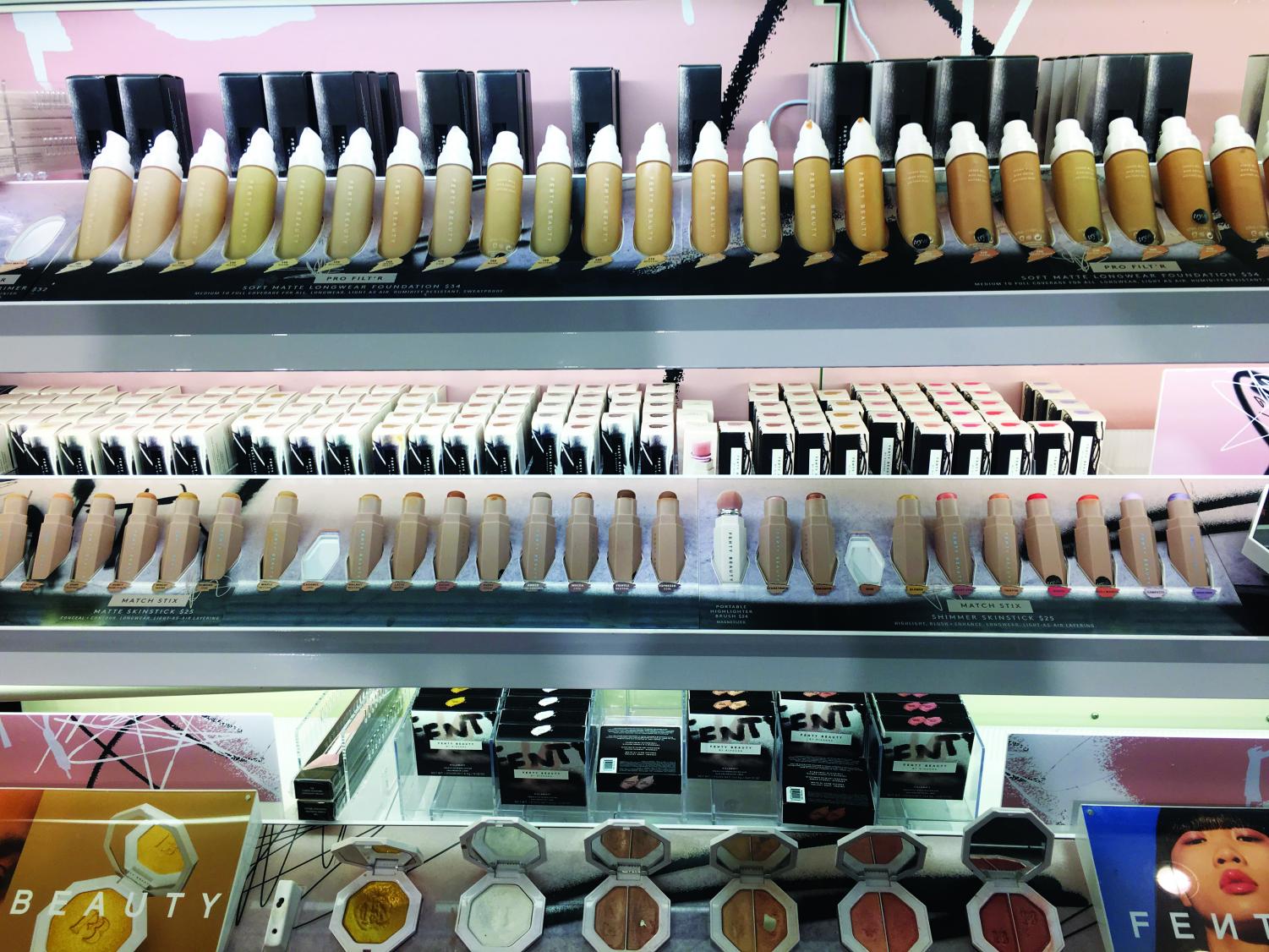 Before becoming famous, Rihanna was just a young girl from Barbados intrigued by her mother's lipstick. After experimenting with different types of makeup, it became her weapon of expression. Rihanna launched her own makeup line with the goal of making every women feel included by creating foundation shades that match all types of skin tones. She embraces diversity through the company's slogan, "for all skin colors, all undertones, from all countries. Foundation in 40 shades, skinsticks in 30 shades, made for you." The beauty line contains makeup products for all including everything from extremely pale to dark brown shades.
Rihanna also focused on developing a minimalistic line by creating products with simplistic packaging. The basic and
contemporary designs of the products provide a different approach than most makeup companies who create over-the- top designs for their merchandise. This, however, did not impede the popularity and success of Fenty Beauty.
Rihanna's beauty products can be found in all Sephora stores around the United States. She prides herself in knowing that her makeup line is not only inclusive, but affordable compared to most high-end makeup companies. The "Pro Filter Soft Matte Longwear Foundation" costs a mere $34, which is extremely affordable compared to other foundations made by Lancome and Laura Mercier, for example, which cost between $40 and $50.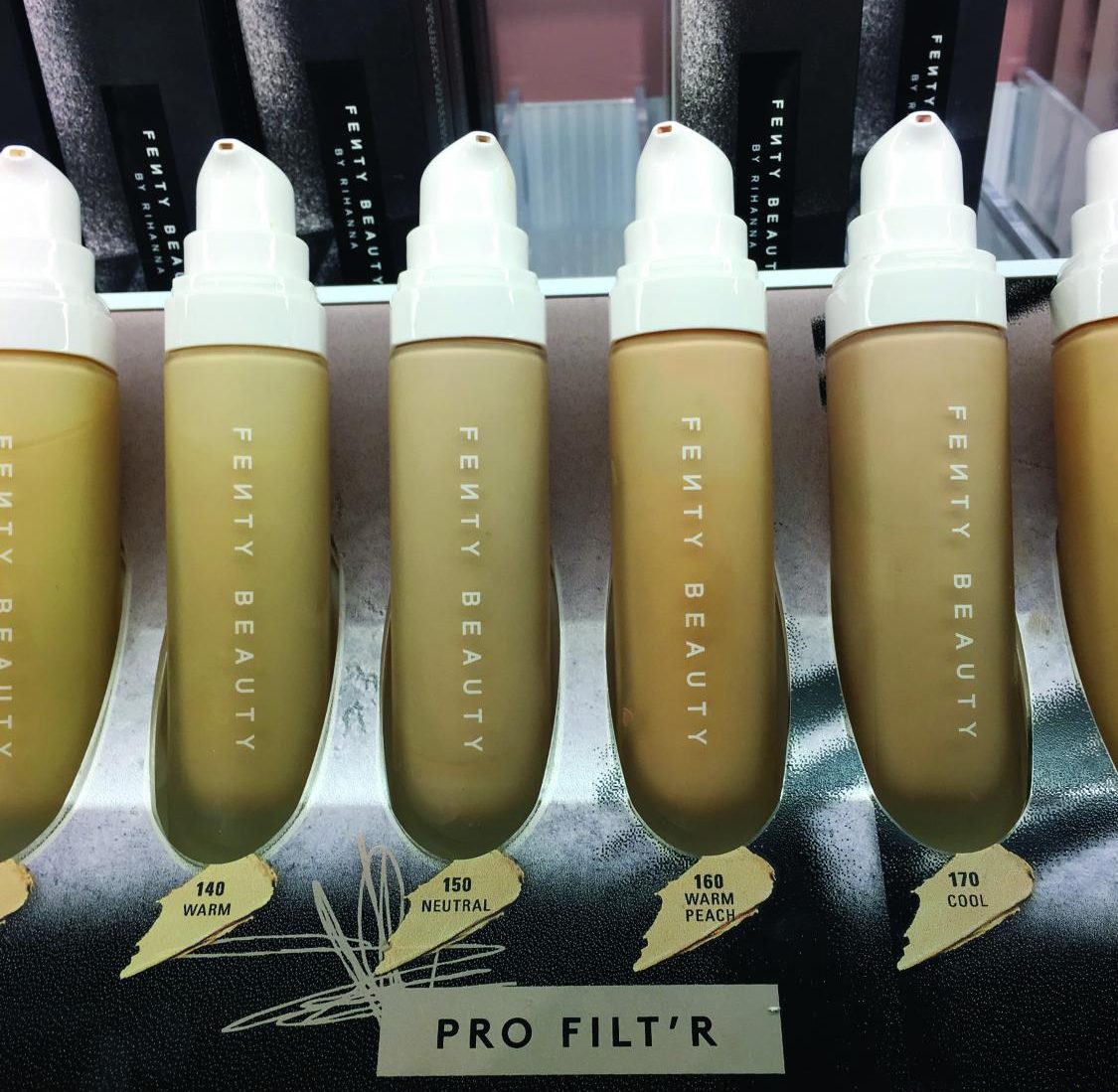 Fenty Beauty consists of not only 40 shades of foundation, but a variety of makeup products. Originally, Rihanna
released only foundations, lip glosses, highlighters and eyeliners at Sephora stores. Her exclusive holiday collection,
Galaxy, consists of stunning multicolored eyeshadow palettes, eye liners, lip sticks and lip glosses.
Using social media, Rihanna was able to attract boys and girls of all ages to her makeup products. The stunning pictures featured on Fenty Beauty's Instagram shows Rihanna and other models wearing the makeup. Other social media accounts have praised Rihanna for her innovative approach to developing a makeup line.
With the release of Fenty Beauty, Rihanna introduced a new era of makeup to the beauty industry and many companies are following her desire to create makeup products for all.