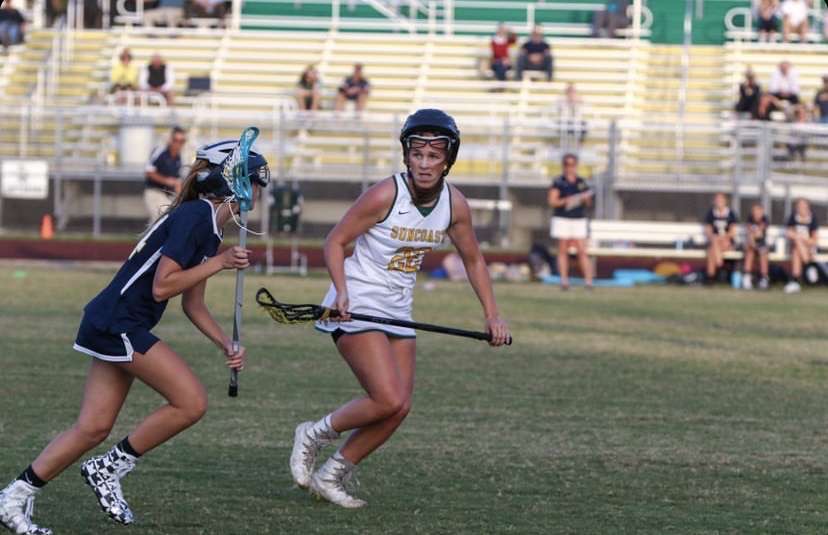 THE LEGEND ATHLETE
Young Lacrosse All-star Spivey
April 15, 2020
As Spivey used to sit through her older brother John Spivey's lacrosse games growing up, it led to the unbearable urge to play as well. She began practicing lacrosse with the Jupiter Tequesta Athletic Association (JTAA) at the age of seven for about six years and knew it was a sport she was going to enjoy for a while. She had skill in what she was doing and had confidence in herself to become the best at what she plays. 
"When I first started I was pretty good and really enjoyed the whole team aspect of it mostly because I was good at it," A. Spivey said. 
Once she had enough experience in the field, she found what drove her to continue was the aggressiveness and fast pace of the game that never had a dull moment and kept the adrenaline pumping through her body. 
"I love everything about this sport. We're always moving, aggressive, energetic, and it's just never boring," A. Spivey. 
One of the biggest accomplishments A. Spivey had was simply being a part of the Brine national team. The Brine national team "[cafefully selects players] around the United States to make up teams that could showcase the premier talent from their region," according to the  Brine National Lacrosse website. As a participant of this team, she felt honored to be selected to be part of such a prestigious team.
"Durning my season with Brine, I experience playing with so many other talented players and amazing coaches, it was great," A. Spivey said. 
As she proceeded to come in contact with new coaches, she met her inspiring coach Sarah Burlingame. Coach Burlingame, once a part of Cornell University's Women's Lacrosse national championship Team in 2013, implemented all her skills and techniques she gained towards her players.
"Coach Burlingame was by far one of my most inspiring coaches, she knew exactly how to run an effective team," A. Spivey said.
During Spiveys' high school season, she was thrilled to demonstrate all the techniques she practiced in her previous seasons with her travel teams. She wanted her team to be the best they could and in the humblest means, she taught them all that she knew.
"I'm excited about this season, we've been doing great so far, can't wait till we get to kick some butt," A. Spivey.
Spivey believes she has made the most of her sport throughout her childhood and will finish strong through her senior year. She decided playing lacrosse in college was not in her plans for the future but will always have the game in her heart.