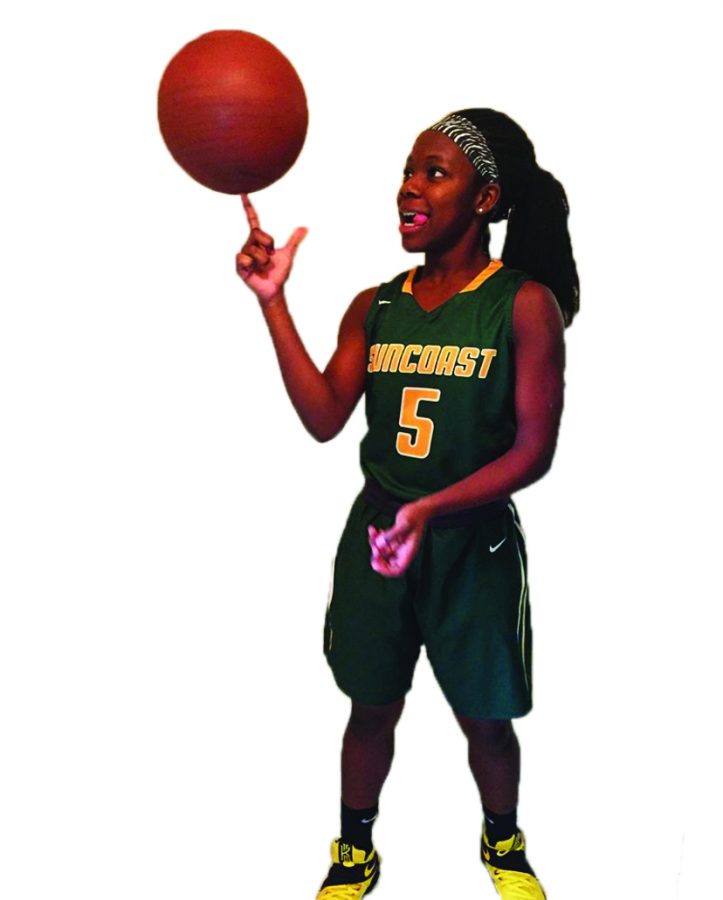 Pass the ball! Adrenaline rushes through her body. She looks around to see where her opponents are. She stops, shoots and scores!
Suncoast Varsity Basketball Captain Kassidie Williams began her journey in the sixth grade when given an inspiring speech from her Coach, Jamie Thyng, affirming there was something unique he saw in her; something he had not seen in all his years of coaching girls, and the crowd saw it as well during her games.
Her path towards success with her first travel team, the Wellington Wolves, was in 2017 when she was offseason from school. In travel teams, the competition was higher and tougher. There were also college coaches analyzing each player and their skills. Being part of this travel team taught her to be a recruitable player, but one of the biggest attributes she learned was discipline.
Her season with Suncoast taught her to improve her three-point shots, passing and leadership. As a result, it taught her patience since she was playing with girls with different experience levels. Consequently, this is where her leadership skills came to function and permitted her to guide her teammates towards efficient play. She then received the position of Team Captain at the end of her junior season.
"She's a leader, smart, fun to be around, coach on the floor, very kind and patience with other players, that's why she was chosen as captain," Ladies Basketball Coach, Chelsie Wiley said.
As Williams began to experience the rigorous classes that the Math, Science and Engineering (MSE) program consisted of during her freshman year, she struggled to maintain her grades at a sufficient level. She was not allowed to continue participating in her travel team due to her parents expectations of school. She decided to take her parents advice to prioritize her academics and took a year off from her travel team. During her sophomore year, however, once she had efficient grades, she was allowed to return with her travel team. When she returned, she worked 10 times harder to recover the major step back of missing a year with the Wellington Wolves.
"This was a major setback for me in the recruitment process because during that time, it was the beginning of when college scouts start their recruitment process," Williams said.
Once her coaches from the Wellington Wolves recognized her dedication, they believed she deserved the leadership role of being the Captain of the Wolves. This position allowed her to focus on each individual skill and help her team advance to win her tournaments.
"Being part of the Wellington Wolves definitely helped be guide my schools team. I always look out for my teammates, also making it fun for them," said Williams.
This leadership role came hand in hand with her accomplishments during her season with Suncoast and her role as a captain in school. Once she applied the leadership skills she learned with the travel team, it was easier for her to guide her team from Suncoast. It also allowed her to be awarded the "Female Athlete of the Year" award during the Junior assembly during her 2018-2019 season.